Bush Craft Ultra-Light Hammock Tarp
€218.00
SUMMARY
Very thin and lightweight tarp that uses the ultra-lightweight 10 denier sill poly.
Walk in the mountains and forests with backpacking, and set up camps near streams and on the hillsides. For such a bushcrafter, it is developed with an emphasis on the balance of lightness, price, and hydrolysis resistance.
FEATURES
The storage is compact and the size does not overwhelm the capacity of the backpack.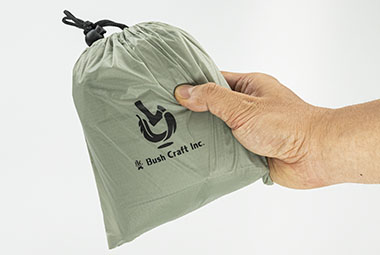 In order to achieve both lightness, price, and hydrolysis resistance, we challenged the thinness of the limit with 10D, which has been subjected to ripstop processing, while the material is ordinary polyester.
The silicon coating is also suppressed to a water pressure resistance of 1,000 mm, which is necessary and sufficient as a tarp.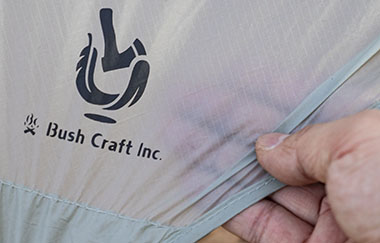 Polyester has a smaller "elongation rate" when it gets wet than nylon. When it is as thin as 10 denier, nylon has a large elongation due to "rain weight" and "wetness", and polyester has relatively stronger hydrolysis resistance.
SPECIFICATIONS
Size when used: 3100 x 2220 mm
Storage size:  200 x 170 x 70 mm
Net weight: 190 g
Gross weight: 280 g
Water pressure resistance: 1000 mm
Main material: 10 denier Ripstop sill Polyester
Color: Light gray
Accessories: 4 aluminum pegs / 2 ridge lines / with free 4 lines