Paper Pot Transplanter HP-16
€1,116.00
SUMMARY
Our Paper Pot Transplanter truly is an authentic manual transplanter that won't require a power source. Just by easily pulling it backwards along ridges, you will finish your planting in a remarkably short time.
It is designed for a variety of crops, such as onion, beet, spinach, lettuce, salad green, broccoli, cabbage, bean, corn, basil, and so on.
It's perfect for not only growing your seedlings, but also makes perfect transplanting grooves by earthing up and pressing the soil just by pulling it backwards!
This is one of the principal products of The Paper Pot System.
FEATURES
The transplanter is designed especially for Paper Pot System that ditches, transplants, covers and presses down the soil.
This is a manual transplanter that allows operators to work at their own paces.
It is easily handled by anybody thanks to its small size and light-weight design.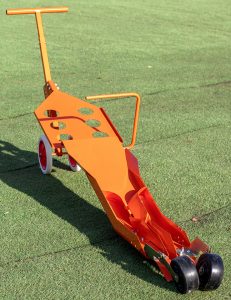 VIDEO
SPECIFICATIONS
| | |
| --- | --- |
| Model Name | HP-16 |
| Length | 1,995 to 2,063 (mm) |
| Width | 315 (mm) |
| Height | 879 to 1,056 (mm) |
| Weight | 12.0 (kg) |
| Planting Row | 1 row |
| Grooving Depth | 53 (mm) |
| Paper Chain Pot Type | CP303, LP303-10, LP303-15 and LP353-30 |