What is Paper Pot System?
Paper Chain Pot System is a highly productive system born here in Japan. It is designed for planting vegetables and flowers. The Paper Pot System will help seedling process much easier and faster. You will reduce labor and work time so much that you will be able to spend your valuable time for other activities.
The Paper Pot System has been known since years ago here in Japan. And now, it is very popular among farmers in Japan and the US. The Paper Pot System will work in other countries as well. We will ship our Paper Pot System products from Japan to European countries.
The Paper Pot System improves seeding and transplanting process by utilizing the products, such as Paper Chain Pot, Seeding Tools and Transplanter.
Please watch the demonstration video below.
Paper Pot Transplanter
Can you imagine a transplanter working without gasoline or electrical power? The Paper Pot Transplanter grooves, ditches and transplants just by pulling it backwards along the ridges.
This is the simple but powerful transplanter from Japan. This handheld transplanter is also good for small farmers. Japanese transplanter for sale.
The Paper Pot Transplanter makes it possible to plant 264 cells (in a standard Chain Pot) in a few minutes. The Transplanter will make furrow by pulling into the soil bed. Place a sheet of Chain Pot on the transplanter and bury the end of the Paper Chain Pot in the ground. The metal stake will be plowed to the ground and it assures planting. Then, all the seedlings will be aligned in the ground and the pressuring wheels will press down the soil to finalize the process.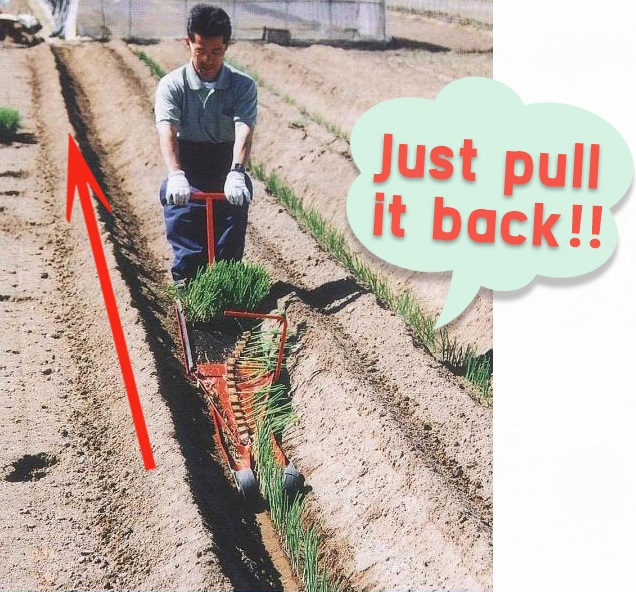 Does it look heavy to you? Don't worry. The Paper Pot Transplanter can be used by everybody. The length of the handle can be adjusted by a ring pin.
The "Double Row" Transplanter will plant two rows. The "Double Row" Transplanter will save your planting time furthermore.
The Starter Package
We are offering a special product named The Starter Package. It provides you everything you need to start the Paper Pot System.
The Starter Package includes Transplanter, Nursery Trays (40 pcs), Paper Chain Pot (3 Cases) and Paper Pot Seeding Kit (5 Components). We pack the three different Paper Chain Pot spacing 5, 10 and 15 cm (1 case each), and you can try which Paper Chain Pot is suitable to your plants and vegetables.
If you wish to try the Paper Pot System, this is the product for you. We selected a combination of products by our experiences and customer demands.
Paper Chain Pot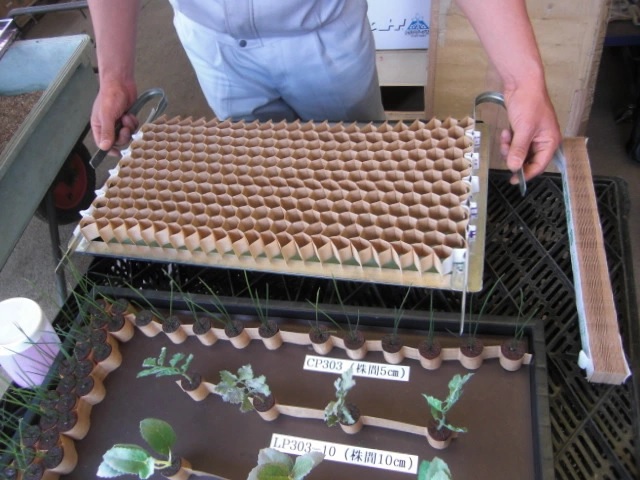 Paper Chain Pot has a chain of cells and it looks like a honeycomb when you unfold it.
Paper Chain Pot is made of special paper and water-soluble glue. It passed air and water to the roots equally and it makes plants healthy. Paper Chain Pot will be decomposed in the ground.

The Chain Pots do not take much spaces. The Paper Chain Pot is a bar shaped flat before use. Spread it when you sow seeds.
We have several types of Paper Chain Pot with the different planting distances. The Paper Chain Pot with 5 cm, 10 cm and 15 cm spacing are the most popular ones.
Seeding Tools
The Paper Pot System provides an efficient way to prepare seedling flats. By using Dibbler, Seeder and Nursery Trays, you will be surprised how easy and productive it is.
We recommend Paper Pot Seeding Kit (5 Components). Paper Pot Seeding Kit provides you the complete tools you need to seed over Paper Chain Pot flats. You cannot imagine sowing seeds without Paper Pot Seeding Kit once you have experienced it.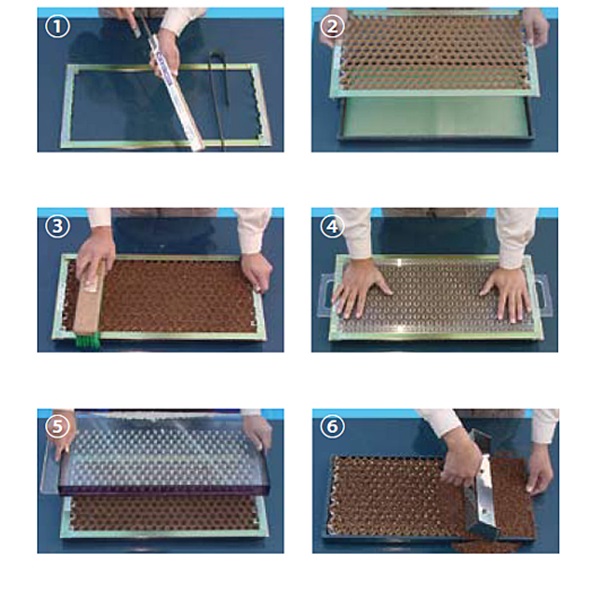 Dibbler makes 264 seeding holes on the soil in Paper Chain Pot cells. Spreading seeds by using Drop Seeder makes seeding process remarkably faster and easier. Without Dibbler and Drop Seeder, you have to seed one by one with your fingers.
Also, Opening Rods and Spreader Frame work perfectly with those tools. Again, we recommend Paper Pot Seeding Kit for everybody new to Paper Pot System.
Nursery Trays
Nursery Trays hold the Paper Chain Pots stuffed with the seedlings and the soil. Our Nursery Trays are designed for Paper Chain Pot System. Nursery Trays will support you as long years as you expect because it is made of durable plastic.
Originally, Nursery Trays were designed to hold rice seedlings here in Japan. Now, it became the standard nursery flat that can be used for many plants in various situations in the world.
The external dimension is 303 x 604 x 33 (mm) and it has 1,301 holes on the bottom.
Soiling and Seeding Machine
We have several types of Soiling and Seeding Machine. After you are aware of the power of the Paper Pot Systems, it's time to start using Soil Seeding Machine to get best performance.
Seeding Machine will stuff soil into Chain Pots for you. Also, some of the Seeding Machines seed into each cells. More you use Seeding Machine, more you will save time.
We have both mechanical and electrical Seeding Machines. Please choose the type of machines according to your farming size. If you have questions, please let us know.
Crops and Vegetables
Paper Pot System is good for various vegetables, crops and flowers such as:
Leek, Spinach, Broccoli, Cabbage, Cauliflower, Edamame (Green soybeans), Beets, Microgreens, Salanova, Stock, Aster, Cereals, Mizuna, Eustoma russellianum, Chrysanthemum, Mitsuba (Japanese hornwort).
Versatility is one of the benefits you will receive from Paper Pot System. If you wish to transplant other plants, you just need to choose suitable Paper Chain Pot, Dibbler and Seeder depending on the planting distance and seed size.
About Us and Our Paper Pot Products
We sell and export the Paper Pot System Products from Japan.
We have long years of experience to export the quality products from Japan to around the world.
We are happy to serve you and looking forward to receiving your order!