NEW | 30 cm Spacing Paper Chain Pot LP353-30
New Paper Chain Pot with 30 cm spacing between crops, which has been asked for a long time!
For those larger crops like cabbage, broccoli and cauliflower that require larger planting space.
LP353-30 Paper Chain Pots require exclusively designed seeding tools and attachments.
Paper Pot Transplanter
Paper Pot Transplanter drastically reduces your farm's transplanting time and works great with a wide variety of crops!
Our Paper Pot Transplanter truly is an authentic manual transplanter that won't require a power source. Just by easily pulling it backwards along ridges, you will finish your planting in a remarkably short time.
Paper Chain Pot has a chain of pots (cells) that looks like a honeycomb. It's perfect for not only growing your seedlings, but also makes perfect transplanting grooves by earthing up and pressing the soil just by pulling it backwards!
It can take hours to completely plant your seedlings the traditional way, or by using inferior products. However, by using the Paper Pot Transplanter you will radically reduce your transplanting time to just a few minutes! Not only that, by using the Paper Pot Transplanter, you will drastically reduce the damage to your body if you're doing it manually, and the damage to your sanity by using an inferior product. Having more time in your day and less pain to yourself, we think is something we can all agree on.
Paper Pot Transplanter is ideal for planting a large array of vegetables and flowers. Here in Japan, it's quite popular to use the Paper Pot Transplanter for planting leeks, along with other vegetables such as asparagus, spinach, broccoli, cabbage and several other chrysanthemums and sunflowers.
After transplanting, our Paper Chain Pot will return to the earth from which it came.
Complete Starter Package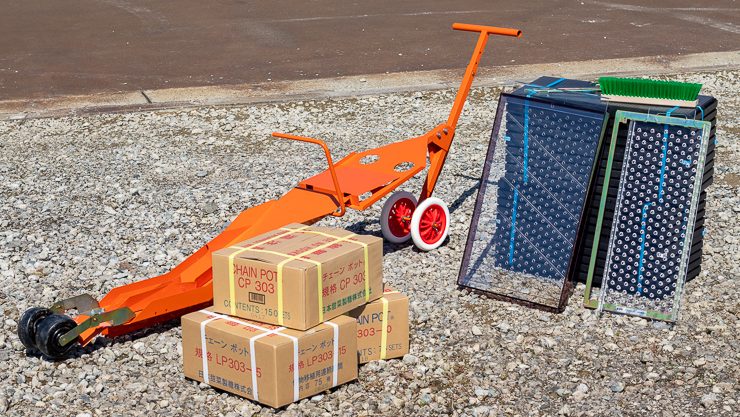 Let's get started Paper Pot System with our Starter Package! Paper Pot System will reduce lots of labor and cost.
We selected the essential items according to our experience and customer's demands. If you wish to try the Paper Pot System, this is the best item for you.
Paper Chain Pots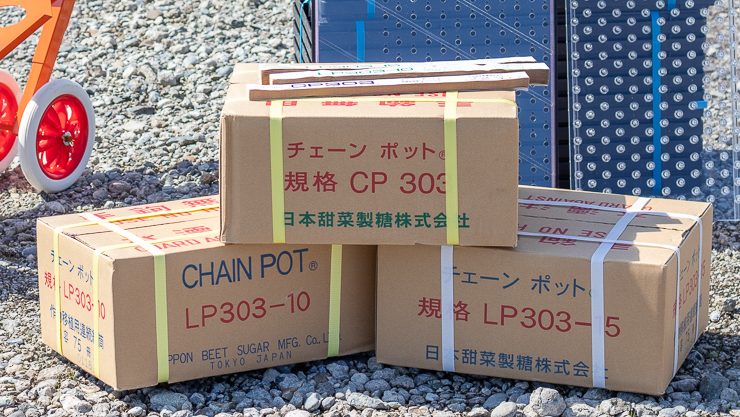 Paper Chain Pot is made of special paper and water-soluble glue. It takes in air and water and brings them equally to all the roots. That makes plants healthier and stronger.
The Paper Chain Pot will decomposed into the ground some months later after transplanting.
Seeding Tools
Paper Pot Seeding Kit provides you the complete tools you need to seed on Paper Chain Pot flats. You cannot imagine seeding without Paper Pot Seeding Kit once you have experienced it.
Dibbler makes 264 seeding holes on the soil in Paper Chain Pot cells. Spreading seeds by using Drop Seeder makes seeding process remarkably faster and easier. Without Dibbler and Drop Seeder, you have to seed one by one with your fingers.
Hemp Chain Pots
Hemp Chainpot is a new type of paperpot made with hemp fibers.
As more and more consumers around the world are demanding safe, fresh produce in which they can feel confident, the number of Paperpot System users expressing an interest in environmentally-friendly product is also growing, particularly in the United States and Europe. As a result, the manufacturer moved to develop a more eco-friendly chainpot using naturally sourced hemp fibers.
Handy Seeders
Tools & Supplies
Looking for a distributor
We are seeking a distributor that is willing to handle Paper Pot System products in Europe.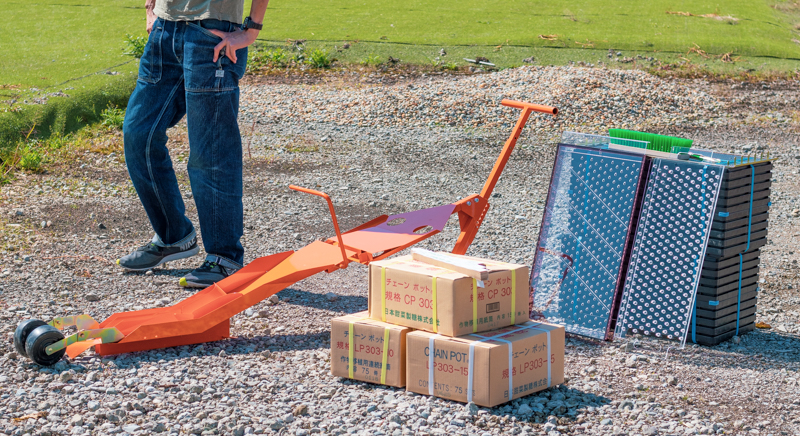 We are looking for a distributor who can distribute Paper Chain Pots System in Europe.