SUMMARY
Light-weight and convenient Manual Jab Planter.
By using the Manual Jab Planter, you won't need to bend over anymore for planting.
FEATURES
The internal diameter is 50 mm.
Various seedlings with the soil can be used with this Manual Jab Planter.
You can plant with the Manual Jab Planter by one-hand. It weighs just 1.3kg.
The handle can be adjusted by two steps.
The safety cover protects the leaves of seedlings.
SPECIFICATIONS
| | |
| --- | --- |
| Model Number | HPS-3 |
| Length (mm) | 756 or 851 (adjustable 2 steps) |
| Size (mm) | 155 x 192 |
| Weight (kg) | 1.3 |
| Diameter of opening (mm) | 15 to 60 |
| Planting depth (mm) | 70 to 160 (adjustable by 10mm steps) |
HOW TO USE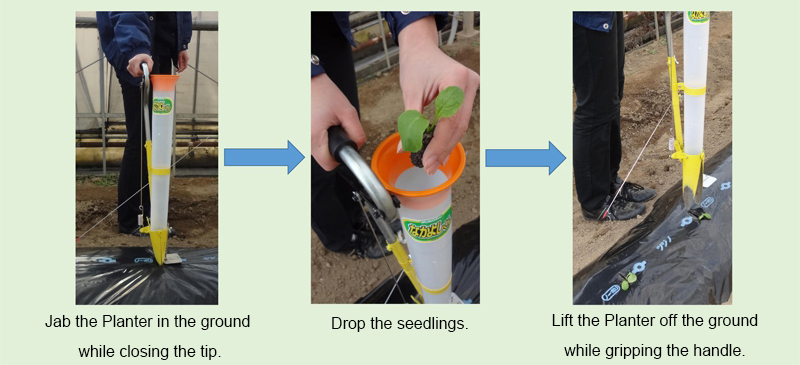 CONDITIONS
The seedlings need to be grown in cell trays.
The seedlings keep the root clump.
The length of root clump should be shorter than 5 cm.
Need some amount of weight as the seedlings will be dropped naturally.
The ground has to be cultivated to the planting depth. The opening tip of the Manual Jab Transplanter should be going down the ground.