Paperpot Transplanter | Vegetabilsk planter kjedepotte (Norwegian)
Paper Chain Pot System er et meget produktivt system født her i Japan. Den er designet for å plante grønnsaker og blomster. Paper Pot System vil hjelpe frøplanteprosessen mye enklere og raskere. Du vil redusere arbeidskraften og arbeidstiden så mye at du vil kunne bruke din verdifulle tid til andre aktiviteter.
Paper Pot System har vært kjent siden mange år siden her i Japan. Og nå er det veldig populært blant bønder i Japan og USA. Paper Pot System fungerer også i andre land. Vi sender våre Paper Pot System-produkter fra Japan til europeiske land.
Paper Pot System forbedrer så- og transplantasjonsprosessen ved å bruke produktene, for eksempel Paper Chain Pot, Seeding Tools og Transplanter.
Se demonstrasjonsvideoen nedenfor.
Paper Pot Transplanter
Kan du forestille deg en transplantator som fungerer uten bensin eller elektrisk kraft? Paper Pot Transplanter riller, grøfter og transplantasjoner bare ved å trekke den bakover langs åsene.
Dette er den enkle, men kraftige transplanteren fra Japan. Denne håndholdte transplanteren er også bra for små bønder. Japansk transplanter til salgs her.
Paper Pot Transplanter gjør det mulig å plante 264 celler (i en standard kjedepotte) på noen få minutter. Transplanteren lager furu ved å trekke inn i jordsjiktet. Legg et ark med kjedepotte på transplanteren og begrave enden av papirkjedepotten i bakken. Metallstaven vil bli brøytet til bakken, og den sikrer beplantning. Deretter blir alle frøplantene rettet opp i bakken og trykkhjulene trykker ned jorda for å fullføre prosessen.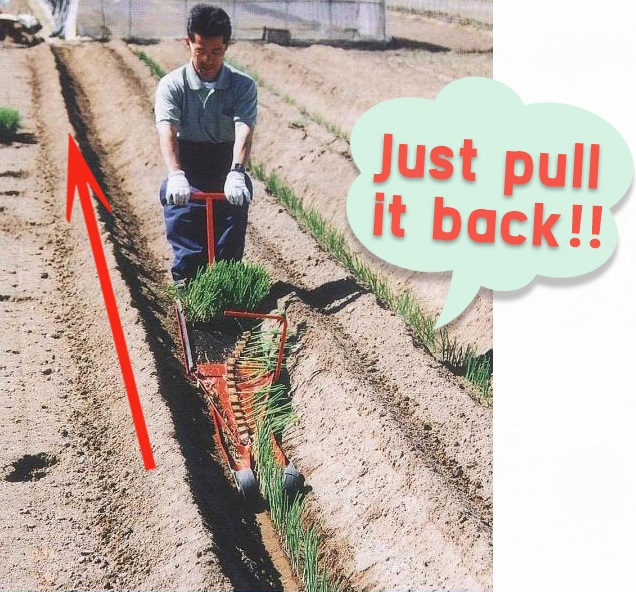 Ser det tungt ut for deg? Ikke bekymre deg. Paper Pot Transplanter kan brukes av hvem som helst. Lengden på håndtaket kan justeres med en ringstift.
Transplanteren "Dobbelt rad" vil plante to rader. Transplanter med dobbel rad sparer plantetiden din ytterligere.
Startpakken
Vi tilbyr et spesielt produkt som heter The Starter Package. Det gir deg alt du trenger for å starte Paper Pot-systemet.
Startpakken inkluderer Transplanter, barnehagemagasiner (40 stk), Papirkjedepotte (3 tilfeller) og Papirpotfrøsett (5 komponenter). Vi pakker de tre forskjellige Paper Chain Pot-avstandene 5, 10 og 15 cm (1 etui hver), og du kan prøve hvilken Paper Chain Pot som passer for planter og grønnsaker.
Hvis du ønsker å prøve Paper Pot System, er dette produktet for deg. Vi valgte en kombinasjon av produkter etter våre erfaringer og kundebehov.
Papirkjedepotte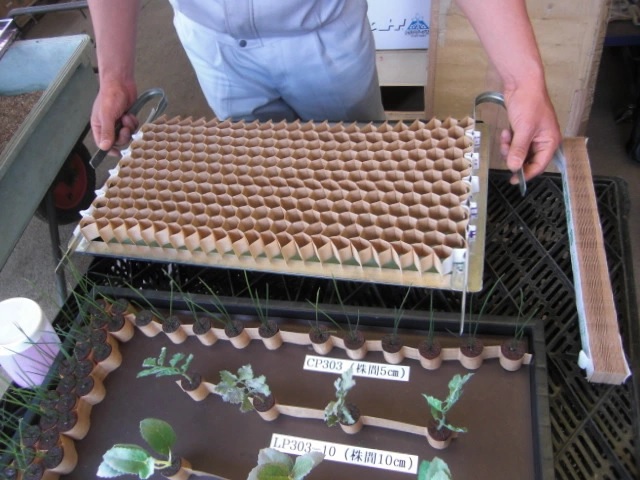 Paper Chain Pot har en cellekjede, og den ser ut som en honningkake når du bretter den ut.
Paper Chain Pot er laget av spesialpapir og vannløselig lim. Det førte luft og vann til røttene likt, og det gjør planter sunne. Papirkjedepotten vil bli spaltet i bakken.

Kjedepotene kan lagres på liten plass. Paper Chain Pot er en stangformet flat før bruk, og bare spre den når du frø.
Vi har flere typer papirkjedekrukke med forskjellige planteavstander. Paper Chain Pot med mellomrom på 5 cm, 10 cm og 15 cm er de mest populære pottene.
Frøverktøy
Paper Pot System gir en effektiv måte å tilberede frøplanter. Med Dibbler, Seeder og Nursery Trays vil du bli overrasket over hvor enkelt og produktivt det er.
Våre produkter tilbyr både manuelt og mekanisk såmaskiner.
Manuell frøverktøy
Det er lurt å starte med Seeding Manual Tools. Vi anbefaler Paper Pot Seeding Kit (5 komponenter). Paper Pot Seeding Kit gir deg det komplette verktøyet du trenger for å frø på papirskjedepotten. Du kan ikke forestille deg å så uten Paper Pot Seeding Kit når du har opplevd det.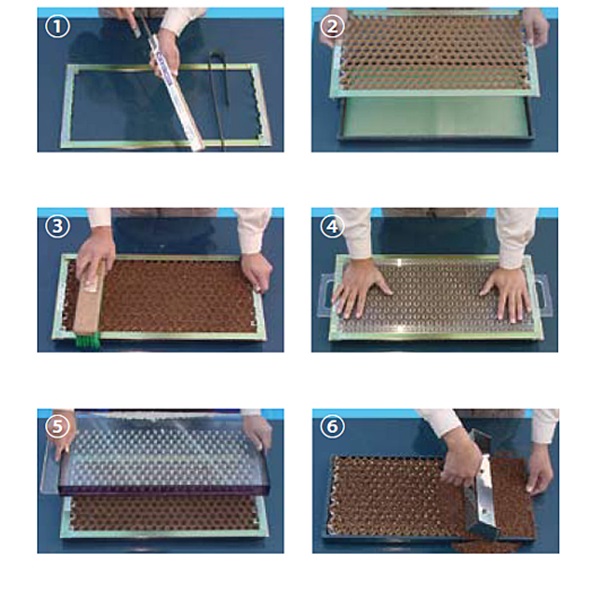 Dibbler lager 264 såhuller på jorda i Paper Chain Pot-celler. Spredning av frø ved å bruke Drop Seeder gjør såingprosessen bemerkelsesverdig raskere og enklere. Uten Dibbler og Drop Seeder må du frø en etter en med fingrene.
Dessuten fungerer åpningsstenger og sprederramme perfekt med disse verktøyene. Igjen, vi anbefaler Paper Pot Seeding Kit for alle nye i Paper Pot System.
Barnehagebrett
Barnehagebrett inneholder papirkjedepotter fylt med frøplanter og jord. Barnehagebakkene våre er designet for Paper Chain Pot System. Nursery Trays vil støtte deg så lange år som du forventer fordi den er laget av holdbar plast.
Opprinnelig ble Nursery Trays konstruert for å holde risplanter her i Japan. Nå ble det den vanlige planteskoleplassen som kan brukes til mange planter og situasjoner i verden.
Den ytre dimensjonen er 303 x 604 x 33 (mm), og den har 1.301 hull i bunnen.
Jordsmonn og såmaskin
Vi har flere typer Soiling and Seeding Machine. Etter at du er klar over kraften til Paper Pot Systems, er det på tide å bruke jordsåmaskiner for å oppnå best mulig ytelse.
Såmaskin vil fylle jord i Chain Pots for deg. Noen såmaskiner frøer også inn i hver celler. Mer du bruker såmaskin, mer sparer du tid.
Vi har både mekaniske og elektriske såmaskiner. Velg maskintype i henhold til oppdrettsplanen din. Hvis du har spørsmål, gi oss beskjed.
Avlinger og grønnsaker
Paper Pot System er bra for forskjellige grønnsaker, avlinger og blomster som:
Purre, spinat, brokkoli, kål, blomkål, Edamame (grønne soyabønner), rødbeter, mikrogreener, Salanova, lager, aster, frokostblandinger, mizuna, Eustoma russellianum, krysantemum, Mitsuba (japansk hornwort).
Allsidighet er en av fordelene du vil motta fra Paper Pot System. Hvis du ønsker å transplantere andre planter, trenger du bare å velge passende papirkjedepotte, dibbler og såmaskin, avhengig av planteavstand og frøstørrelse.
Våre papirpotteprodukter
Vi selger og eksporterer Paper Pot System Products fra Japan.
Vi har lang års erfaring med å eksportere kvalitetsproduktene fra Japan til hele verden.
Vennligst sjekk gjennom vårt utvalg av varer. Vi er glade for å tjene deg!