Transplantacija papira za papir | Lonac za sadnju povrća (Croatian)
Paper Chain Pot System vrlo je produktivan sustav rođen ovdje u Japanu. Dizajniran je za sadnju povrća i cvijeća. Sustav za sipanje papira pomoći će procesu sadnice mnogo lakše i brže. Smanjit ćete radno i radno vrijeme toliko da ćete svoje dragocjeno vrijeme moći potrošiti na druge aktivnosti.
Sustav lonca za papir poznat je od prije ovdje, u Japanu. I sada je vrlo popularan među poljoprivrednicima u Japanu i SAD-u. Sustav papira za papir funkcionirat će i u drugim zemljama. Naše proizvode sa sustavom Paper Pot System isporučujemo iz Japana u europske zemlje.
Sustav s papirnim loncem poboljšava postupak sadnje i presađivanja pomoću proizvoda, kao što su posuda za lanac papira, alati za sjetvu i presađivači.
Pogledajte demonstrativni video u nastavku.
Transplantacija lonca za papir
Možete li zamisliti transplantator koji radi bez benzina ili električne energije? Papirnati žljebovi, jarci i transplantacije za posuđe za transplantaciju stavljaju se samo povlačenjem unatrag duž grebena.
Ovo je jednostavan, ali moćan transplantator iz Japana. Ovaj ručni transplantator je također dobar za male farmere. Ovdje se prodaje japanski transplantator.
Transplantator u loncu za papir omogućava sadnju 264 stanice (u standardni lančani lonac) u nekoliko minuta. Transplantator će napraviti brazdu uvlačenjem u podlogu tla. Stavite list lančanog lonca na transplantator i zakopajte kraj posude za lanac papira u zemlju. Metalni ulog bit će obavljen na zemlju i to osigurava sadnju. Potom će se sve sadnice poravnati u tlu, a kotači za pritisak će pritisnuti tlo da bi dovršili postupak.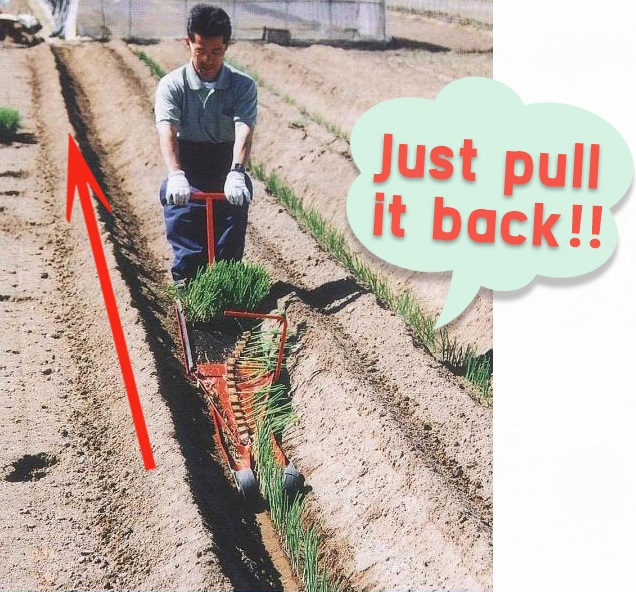 Izgleda li vam teško? Ne brini. Transplantaciju lonca za papir može bilo tko koristiti. Duljina ručke može se podesiti prstenastom iglom.
Transplantator "dvostrukog reda" zasadit će dva reda. Transplantator "Double Row" dodatno će vam uštedjeti vrijeme sadnje.
Starter paket
Nudimo poseban proizvod pod nazivom Starter Package. Pruža vam sve što je potrebno za pokretanje sustava papirnih pot.
Starter paket uključuje Transplanter, ladice za jaslice (40 kom), lonac za lanac papira (3 kućišta) i komplet za sadnju lonca za papir (5 komponenti). Spakiramo tri različita razmaka za lanac za papir u razmaku 5, 10 i 15 cm (svaki slučaj 1), a možete isprobati koji lonac s lancem za papir odgovara vašim biljkama i povrću.
Ako želite isprobati Paper Pot System, ovo je proizvod za vas. Odabrali smo kombinaciju proizvoda prema našem iskustvu i zahtjevima kupaca.
Lonac s papirnim lancima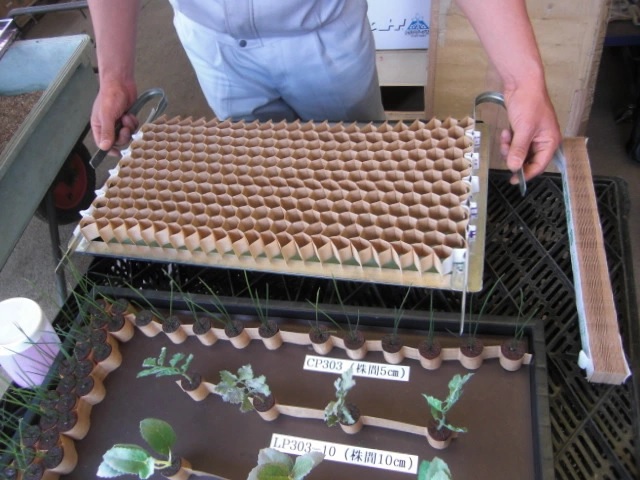 Lonac za papirni lanac ima lanac ćelija i izgleda kao saće kada ga razvučete.
Potisni lanac za papir izrađen je od posebnog papira i ljepila topljivog u vodi. Zrak i voda su jednako prenosili korijenje i biljke čine zdravim. Lonac s lancem od papira razgradit će se u zemlji.

Lančane posude mogu se pohraniti u malom prostoru. Lonac za papir lanac je prije upotrebe u obliku šipke i samo ga raširite kad sadite.
Imamo nekoliko vrsta lonaca za papirni lančić s različitim udaljenostima sadnje. Lonac s lancem od papira s razmakom od 5 cm, 10 cm i 15 cm najpopularniji su lonci.
Alati za sijanje
Sustav za lonac s papirima pruža učinkovit način za pripremu stabala za sadnice. Pomoću Dibblera, Seeder i jaslica, iznenadit ćete se koliko je to jednostavno i produktivno.
Naši proizvodi nude i ručnu i mehaničku opremu za sijanje.
Ručni alati za sijanje
Dobro je započeti s Ručnim alatima za sadnju. Preporučujemo set za sadnju papira za papir (5 komponenti). Kit za sadnju papira za papir nudi vam kompletne alate koje trebate posaditi u stanove za lanac za papir. Ne možete zamisliti sjetvu bez Set set set za papir, nakon što ga iskusite.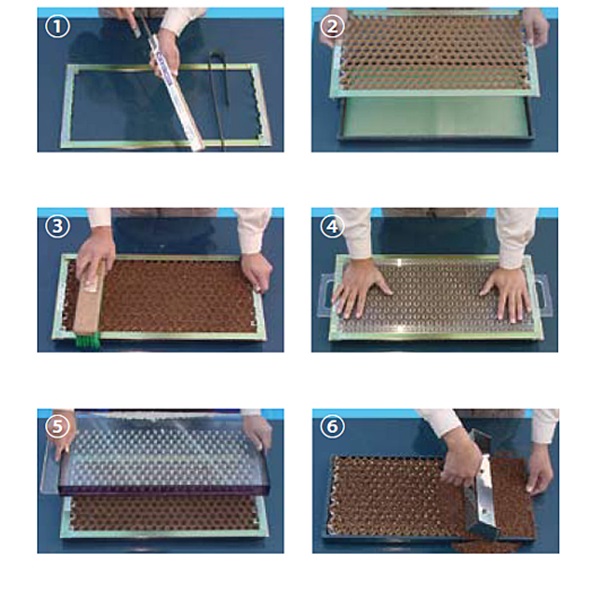 Dibbler čini 264 rupe za sijanje na tlu u stanicama sa potpornim lancem. Širenje sjemena primjenom Drop Seeder-a čini postupak sjetve nevjerojatno bržim i jednostavnijim. Bez Dibblera i Drop Seeder-a morate jedno po jedno sejati prstima.
Također, štapovi za otvaranje i okvir raširivača savršeno funkcioniraju s tim alatima. Opet, preporučujemo set za sipanje papira za papir za sve koji su novi u sustavu papirnih pot.
Dječje ladice
U dječjim ladicama nalaze se posude za lanac papira punjene sadnicama i tlom. Naše dječje ladice dizajnirane su za sustav lonca za papir. Dječji pladanj će vas podržavati onoliko dugo koliko očekujete jer je izrađen od izdržljive plastike.
Izvorno su dječje ladice dizajnirane za držanje sadnica riže ovdje u Japanu. Sada je to postao standardni stan za rasadnike koji se može koristiti za mnoge biljke i situacije u svijetu.
Vanjska dimenzija je 303 x 604 x 33 (mm), a na dnu ima 1.301 rupu.
Stroj za prljavštinu i sadnju
Imamo nekoliko vrsta stroja za prljavštinu i sadnju. Nakon što ste svjesni snage sustava papirnih potkornjaka, vrijeme je da koristite stroj za sjetvu tla kako bi se postigle najbolje performanse.
Stroj za sjetvu uložit će vam zemlju u lančane posude. Također, neki od sjemenskih strojeva sjeme u svaku ćeliju. Što više koristite sjemenski stroj, više ćete uštedjeti vrijeme.
Imamo i mehaničke i električne strojeve za sjetvu. Molimo odaberite vrstu strojeva prema vašem poljoprivrednom planu. Ako imate pitanja, javite nam se.
Usjevi i povrće
Sustav za papir sa papirima dobar je za razno povrće, usjeve i cvijeće poput:
Por, špinat, brokula, kupus, cvjetača, edamame (zelena soja), repa, mikrozelenjača, salanova, stoka, aster, žitarice, mizuna, Eustoma russellianum, krizantema, Mitsuba (japanski hornort).
Svestranost je jedna od prednosti koje ćete dobiti od Paper Pot System. Ako želite presaditi druge biljke, samo trebate odabrati prikladnu posudu za lanac, sjeme i balirku za papir, ovisno o udaljenosti sadnje i veličini sjemena.
Naši proizvodi s papirnim loncem
Prodajemo i izvozimo proizvode s papirnih potpornih sustava iz Japana.
Imamo dugogodišnje iskustvo izvoza kvalitetnih proizvoda iz Japana u cijeli svijet.
Molimo provjerite našu raznolikost robe. Sretni smo što vam služimo!