Transplanteur Paperpot | Pot de chaîne de planteur de légumes (French)
Paper Chain Pot System is een uniek product dat geschikt is voor Japon. Il est conçu pour planter des légumes et des fleurs. Le Paper Pot System aidera le processus de semis beaucoup plus facilement et plus rapidement. Vous réduirez tellement le travail et le temps de travail que vous pourrez consacrer votre temps précieux à d'autres activités.
Het Paper Pot-systeem is geschikt voor annon ici au Japon. Et maintenant, il est très populaire auprès des agriculteurs japonais et américains. Het systeem van de papierpot functioneert en betaalt. Nous expédierons nos produits Paper Pot System du Japon aux pays européens.
Het Paper Pot-systeem is geschikt voor het verwerken en hergebruiken van gebruiksvoorwerpen, het vertellen van Paper Chain Pot, Seeding Tools en Transplanter.
Veuillez regard la vidéo de démonstration ci-dessous.
Transplanteur de potten en papier
Kunt u zich een transplanter voorstellen die zonder benzine of elektriciteit werkt? De Paper Pot Transplanter groeven, greppels en transplantaties door hem gewoon langs de richels naar achteren te trekken.
Il s'agit du transplanteur simpele maar krachtige du Japon. Le transplantoir manuel Deze est utilisé pour la kleine boeren. Transplanteur japonais hier te koop.
De Paper Pot Transplanter maakt het mogelijk om in enkele minuten 264 cellen (in een standaard Chain Pot) te planten. De Transplanter maakt een voor door in het grondbed te trekken. Plaats een vel Chain Pot op de transplanter en begraaf het uiteinde van de Paper Chain Pot in de grond. De metalen paal wordt op de grond geploegd en zorgt voor aanplant. Vervolgens worden alle zaailingen in de grond uitgelijnd en drukken de drukwielen de grond naar beneden om het proces te voltooien.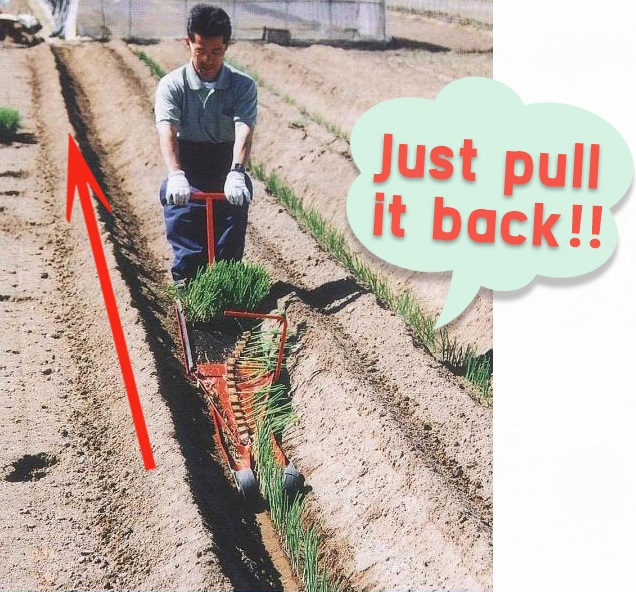 Lijkt het je zwaar? Maak je geen zorgen. De Paper Pot Transplanter kan door iedereen worden gebruikt. De lengte van het handvat kan worden aangepast met een ringpen.
De "Double Row" Transplanter plant twee rijen. De "Double Row" Transplanter bespaart bovendien uw planttijd.
Het startpakket
Nous avons produit spécial aan, genaamd The Starter Package. Het biedt u alles wat u nodig heeft om het Paper Pot-systeem te starten.
Het startpakket bestaat uit een verplantenbak, kweekbakken (40 stuks), een papieren kettingpot (3 koffers) et een zaaikit voor papierpotten (5 componenten). We verpakken de drie verschillende Paper Chain Pot-afstanden van 5, 10 en 15 cm (elk 1 doos), en u kunt proberen welke Paper Chain Pot geschikt is voor uw planten en groenten.
Als u het Paper Pot-systeem wilt proberen, is dit het product voor u. Nous hebben een combinatie van producten geselecteerd op base van onze ervaringen en de eisen van de klant.
Pot de papieren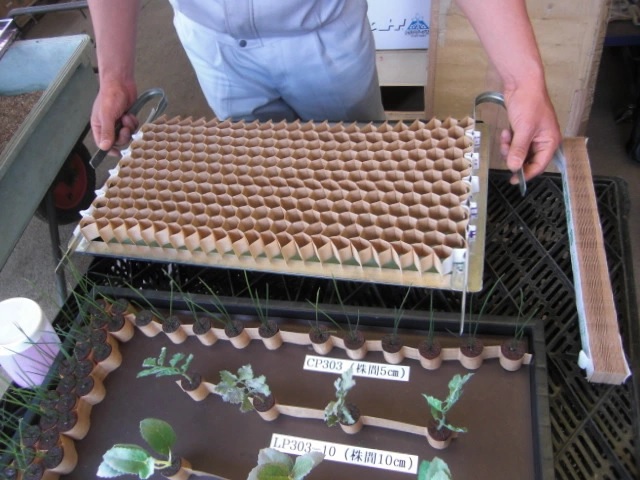 Paper Chain Pot heeft een ketting van cellen en het ziet eruit als een honingraat wanneer je hem uitklapt.
Le Pot à Chaîne en Papier est un gemaakt van speciaal papier en wateroplosbare lijm. Het gaf lucht en water gelijk aan de wortels door en maakt planten gezond. Paper Chain Pot zal in de grond worden ontbonden.

De kettingpotten kunnen à een kleine ruimte worden opgeborgen. De Paper Chain Pot est een staaf die vlak voor gebruik is gevormd en verspreid hem gewoon tijdens het zaaien.
We hebben de verschillende soorten Paper Chain Pot met de verschillende plantafstanden. De Paper Chain Pot met 5 cm, 10 cm et 15 cm tussenruimte zijn de meest populaire potten.
Zaaimachines
Het Paper Pot-systeem biedt een efficiënte manier om zaailingen te bereiden. Met Dibbler, Seeder et Nursery Trays zult u versteld staan ​​hoe gemakkelijk en productief het is.
Onze producten bieden zowel handmatige als mechanische zaaiapparatuur.
Handmatige zaaigereedschappen
Het is een goed idee om te beginnen met Handmatige zaaigereedschappen. Nous raden Kit de semis en pot de papier (5 composants) aan. Kit de semis en pot de papier biedt u het complete gereedschap dat u nodig hebt om op Paper Chain Pot-flats te zaaien. Je kunt je zaaien niet voorstellen zonder Paper Pot Seeding Kit als je het eenmaal hebt ervaren.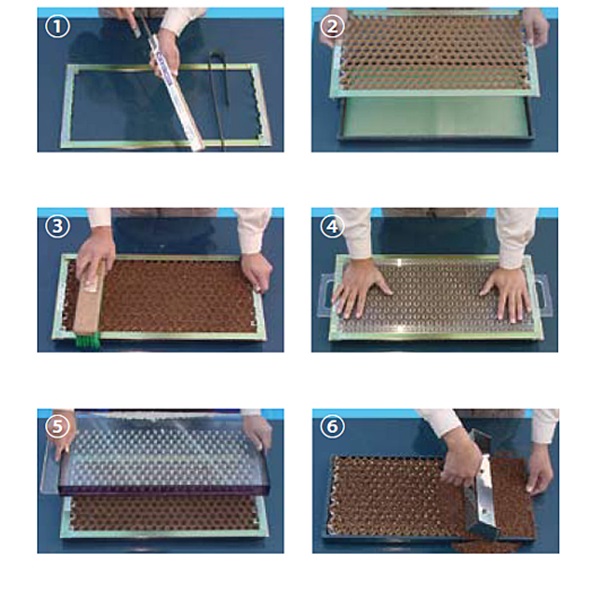 Dibbler maakt 264 zaaigaten op de grond dans Paper Chain Pot-cellen. Het verspreiden van zaden a rencontré behulp van Drop Seeder maakt het zaaiproces opmerkelijk sneller en gemakkelijker. Zonder Dibbler et Drop Seeder moet je één voor één met je vingers zaaien.
Ook het openen van stangen en het spreidframe werken perfect met die gereedschappen. Nogmaals, we raden Paper Pot Seeding Kit aan voor iedereen die nieuw is bij Paper Pot System.
Kwekerijbakken
Kwekerijbakken bevatten de papieren kettingpotten gevuld met de zaailingen en de grond. Onze kwekerij trays zijn ontworpen voor Paper Chain Pot System. Plateaux de pépinière ondersteunen u zo lang als u verwacht, omdat het est en plastique gemaakt van duurzaam.
Oorspronkelijk werden de Boomkwekerijen ontworpen om rijstzaailingen hier au Japon te bewaren. Nu werd het de standaard kwekerij die voor veel planten en situaties in de wereld kan worden gebruikt.
De afmeting extérieure est de 303 x 604 x 33 (mm) en een 1301 trous sur le fond.
Machine à salir et semer
Nous avons plusieurs types de machine de salissure et de semis. Une fois que vous êtes conscient de la puissance des systèmes de pots de paper, il est temps d'utiliser la machine de semis de sol afin d'obtenir les meilleures performances.
La semeuse remplira le sol dans des pots à chaîne pour vous. De pluspunten van bepaalde machines zijn déposent dans chaque cellule. Plus vous utilisez zaaimachine, plus vous gagnerez du temps.
Nous avons des semoirs mécaniques et électriques. Veuillez keuze van het type machines dat op een plan van plan is opgesteld. Si vous avez des questions, faites-le nous savoir.
Cultures et légumes
Le système de pots de paper est bon pour diversen légumes, culturen et fleurs tels que:
Poireau, épinards, brocoli, chou, chou-fleur, edamame (soja vert), betteraves, micro-verts, salanova, bouillon, aster, céréales, mizuna, Eustoma russellianum, chrysanthème, mitsuba (hornwort japonais).
De polyvalentie van de voordelen van het recupereren van het Paper Pot-systeem. Het is ook mogelijk om planten over de grond te planten, en de pot is geschikt voor papier en zaaigoed.
Nos produits en pot de papier
Verkoop en export van producten met Paper Pot System du Japon.
De exporteur van producten wordt geëxporteerd naar de kwaliteit van de Japanse productie en de invoer.
Veuillez vérifier notre variété de produits. Nous sommes heureux de vous servir!